Think again, here are a couple of examples of how to merge technology and print and come up with some really interesting campaigns.  Take 5 minutes and look and these and get inspired. RMM
O Boticario
Beauty brand O Boticario showed that both social technologies and luxury can very much go hand in hand, with an impressive print ad campaign that utilised mobile technology. What's impressive about this ad is that it wasn't just about doing something flashy for the sake of it, but rather a very real way of extending the product offering, showing a mini demo about how a particular effect was achieved. The campaign was created by AlmapBBDO, who are based in Brazil.
Shikun & Binui
A bonus campaign here as it shows how print ads can be made interactive even without the use of digital technologies. Shikun & Binui Renewable Energy are active in ecological projects and to promote their efforts, they produced a print ad that changed completely when viewed in sunlight.
It's a great way of bringing the brand experience to life, utilising a print medium to literally extend the services and products offered by Shikun & Binui Solaria, so that the user becomes part of the story. A great reminder that digital isn't necessarily the only way to make your ads interactive!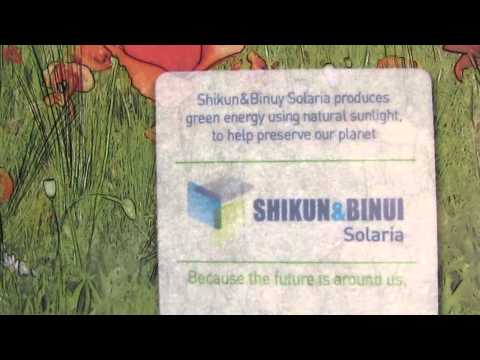 Volkswagen – Test Drive Your Phone
Volkswagen showed how print advertising could really be taken to extremes, by producing the world's first test drive via a print ad. The ad involved a bespoke app that worked with the pull-out print campaign, using different functionalities of the phone to extend the experience like vibrating whenever the car reached the edge of the road.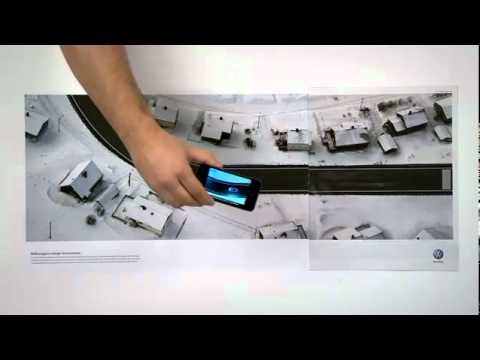 Reporters Without Borders
A campaign ran by the free-press advocacy group Reporters Without Borders had the mouths of well known dictators replaced through a smartphone. By scanning and placing your phone on a full-page print ad, the mouth would start speaking about media censorship in that particular country.
Three print ads were commissioned featuring Gaddafi, Ahmadinejad and Putin. The result was a strong message sent out to readers and highlighted the many obstacles journalists face in these countries.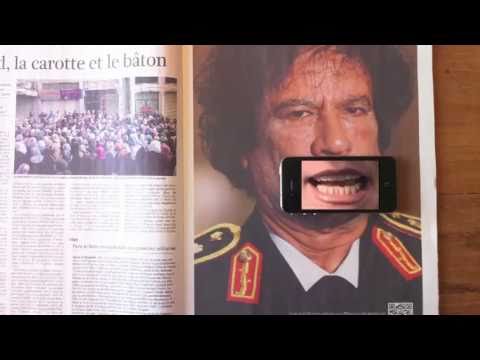 Sonera
To highlight that their 4G network is the fastest, Finnish mobile company Sonera developed a mobile app that turned their print ad into a mobile game via your smartphone. The game lets you play against a friend to see who has the quickest reactions. Not only does it get the company's message across, but it also features a social element which very few of these interactive ads incorporate, many of which are directed towards single users.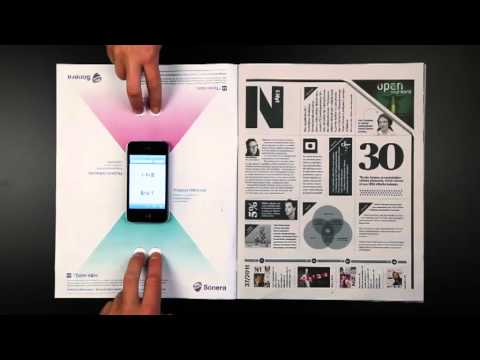 Moosejaw – X-Ray Scanner
With the introduction of Augmented Reality (AR), we expected that it was inevitable that somebody, somewhere would use the technology for this purpose. Outdoor clothing retailerMoosejaw has released a new app for their catalogue which functions as an x-ray scanner.
Opening up any of their catalogues, you then use the app to see what the models are wearing underneath their clothes. As you browse through the magazine, certain models and photos can be scanned for the app to reveal what they're wearing underneath. If you don't happen to have a physical copy of the catalogue, you can read the online version which is also scannable.
After downloading and – *ahem* – testing the app on the digital catalogue, it functions well. Admittedly, there was one incident where a small bit of flickering occurred, but that was more because it was aimed at a computer screen and apart from that.
While we all secretly know that this is an app really aimed towards the male demographic, it's still an intriguing use for AR and will definitely give the retailer exposure (no pun intended!) to a wider audience. The app is available to download for iPhone, iPad and Android.